News
(click to see News & More)
FAQs
Voter Registration & Motor Vehicle Law Jointly Issued
---
This joint guidance is provided in consultation with the Attorney General's Office.
Uniformed and Overseas Voters
---
Uniformed and Overseas Citizens - Absentee Ballot Request
---
Uniformed & Overseas Citizens - Voter Registration
---
Voting in Party Primaries
---
Federal Post Card Application (FPCA)
---
Federal Write-in Absentee Ballot (FWAB)
---
2022-2023 Political Calendar
Election Laws
All procedures related to New Hampshire elections are contained in state statutes also known as RSA's (Revised Statutes Annotated). There are no other administrative rules or manuals that need to be referenced when researching election procedures.
New Hampshire Election Laws
---
Help America Vote Act
---
The Help America Vote Act (HAVA) was passed by congress in 2002, and required every state to create and maintain a statewide, centralized voter database, provide accessible voting equipment ...
Voter Identification Law
---
Find the links to the State of New Hampshire Voter ID Law as well as Explanatory Document….
Election Procedure Manual
---
This Manual is designed to help make the election process more readily understandable. This handbook is not law.
Political Calendar 2020-2021
---
2021 Election Law Changes
2020 Election Law Changes
See Voting Information by State
Access voting information by state using the drop-down menu:
Contact
William M. Gardner, Secretary of State
Robert P. Ambrose, Senior Deputy Secretary of State
David M. Scanlan, Deputy Secretary of State

Secretary of State's Office - Elections Division - Administration
Located: State House, Room 204
              107 North Main Street
              Concord, N.H. 03301
Phone: 603-271-3242
Fax: 603-271-6316
TDD Access: Relay NH 1-800-735-2964

Email: elections@sos.nh.gov
Website: sos.nh.gov
Elections & Voting Division Forms
Absentee Ballot App 2021 City Town
Absentee Ballot App State Election 2021
Asserting a Challenge Form (Any person challenging a voter at any election must complete this form)
Challenge Voter Affidavit Elections 2020
FEDERAL POSCARD APPLICATION (FPCA) 2019 - For Uniformed Service Members & Citizens Residing Outside the United States
Mail Primary Or General Absentee Ballot Instructions 8.21
Nom Paper Individual 2022
Qualified Voter Affidavit
Religious Exemption Affidavit
Elections & Voting Division
Select Committee on 2020 Emergency Election Support
Secretary of State Gardner announces Select Committee on 2020 Emergency Election Support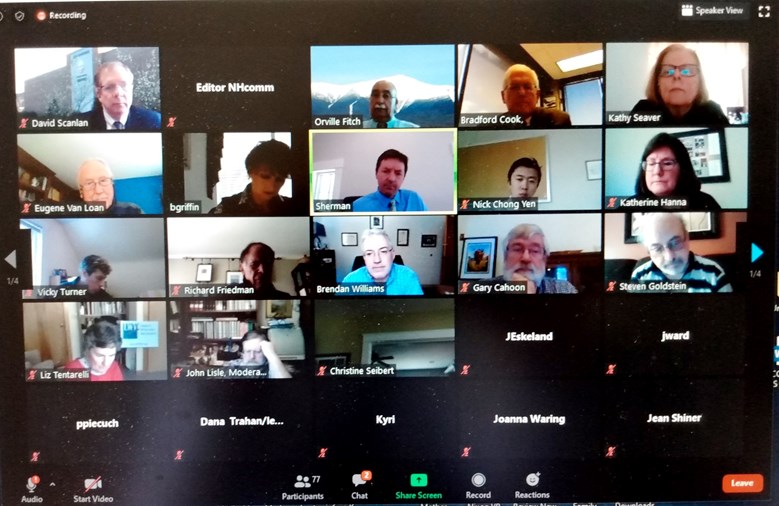 Committee Agendas and Minutes
---
FINAL REPORT issued by the Select Committee on 2020 Emergency Election Support
---
Zoom Online Chat Comments
---
Zoom Session YouTube Videos
---
CARES Act General Guidance Documents
---
CARES Act Election Security Awards by State
---
CARES Act Laws and Regulations
---
Committee Proposed Action Items
---