News and Legal Notices
Important Notice to Borrowers about PPP Loan Forgiveness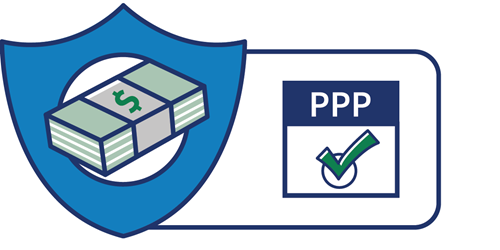 Businesses that received PPP (Paycheck Protection Program) loans from the U.S. Small Business Administration (SBA) earlier this year have been submitting their requests for loan forgiveness.   The SBA has been busy processing these requests, and now borrowers are beginning to receive letters from the agency indicating their application for loan forgiveness has been approved.
Receiving such a letter is great news for the business, of course.  Included with the approval letter, however, is another important document that requires further action by the borrower. Included with that letter is a form titled "UCC-3 Amendment."  This form is intended to serve as public notice that the obligations of the borrower have been satisfied, and that the SBA no longer claims a security interest, or lien, in the collateral of the borrower.  The letter directs the borrower to file the UCC-3, known as a "termination" with the Secretary of State.
"Why is this important?"
After the SBA approved your PPP loan, the agency filed a notice, commonly known as a UCC-1 Financing Statement, with this Office, or possibly with UCC office where the business is incorporated (i.e. Delaware).  This public filing was done to notify other lenders that the SBA had placed a lien on all personal property assets of the business (such as equipment, inventory, accounts receivable, etc.) until the PPP loan was repaid or forgiven.  Filing the UCC-3 termination provides the same public notice that the loan has been satisfied, and that the SBA's lien has been released. 
"What happens if the UCC-3 form isn't filed with the State?"
Failure to record the lien termination, or UCC-3, does not change the fact that the PPP loan has been satisfied. No further payments or loan obligations will be due. But if the business should apply for financing in the future, the public record will not reflect that the loan is paid and that the SBA has released any claims on the business' collateral.  Unless terminated sooner, the SBA's UCC lien remains effective for a period of five (5) years. That could cause unnecessary delays and issues in securing new funding in the future, or perhaps throw a wrench in a future transaction, such as a sale of assets or the business itself.
After receiving your forgiveness letter, you can contact our UCC Office by phone or email to verify if the SBA has filed its original UCC-1 filing with us.  Once verified, the borrower should send one copy of the UCC-3 form, along with a check in the amount of $48.00 to:
NH Secretary of State
Attn: UCC
107 North Main Street, Room 204
Concord, NH 03301
Please make checks payable to "State of New Hampshire.". 
Borrowers are strongly encouraged to follow through on these last important steps to ensure that no loose ends are left in the public record after your loan has been forgiven.
GO BACK