News
(click to see News & More)
Vital Records Administration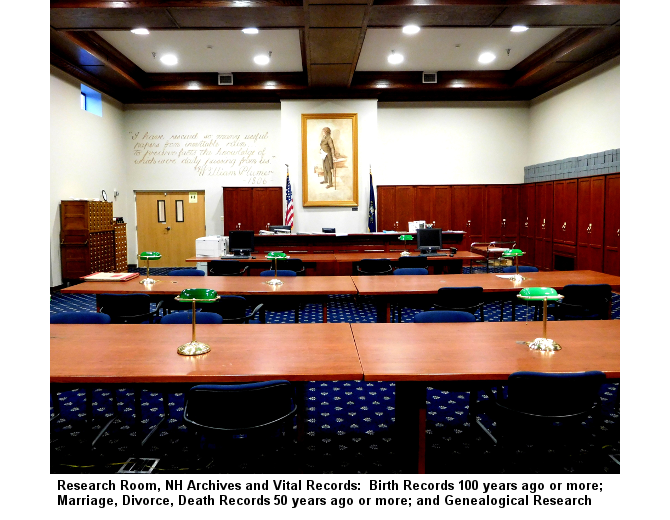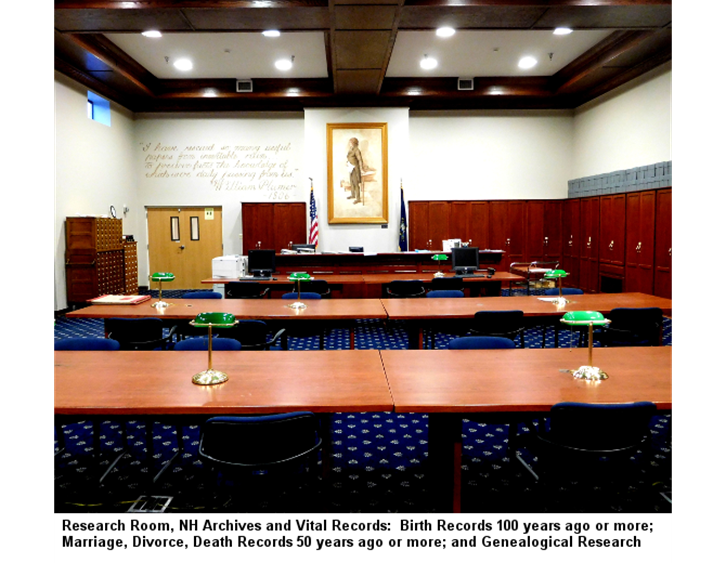 Welcome to the
Division of Vital Records Administration

VITAL RECORDS IMPROVEMENT FUND ADVISORY COMMITTEE
Public Meeting Notice

New Web Site for Querying Vital Records Statistical Data
Genealogical & Vital Records are not available online.
This is statistical information only. Individual vital records data
CANNOT be accessed using this tool.
The Division of Vital Records Administration has released new, web-based software that anyone can use to look at Vital Records statistical information ONLY (derived from records of birth, death, marriage and divorce). The "New Hampshire Vital Records Information Network web" (NHVRINweb), is a real-time web-based data query system for accessing Vital Records statistical data. This web-based tool allows access to de-identified Vital Records that date back to 1995. You can also produce data reports in either a spreadsheet format or as a document, so that you can include this data in your own reports if desired.
Here is a link to our new software tool: http://nhvrinweb.sos.nh.gov/. Once you get into the site, you will be prompted to register yourself in order to look at the data in the birth, death, marriage and divorce tables. The site also has the ability for you to provide feedback if you have any questions or comments. Enjoy! Please Note: this is statistical information only. Individual vital records data cannot be accessed using this tool.
---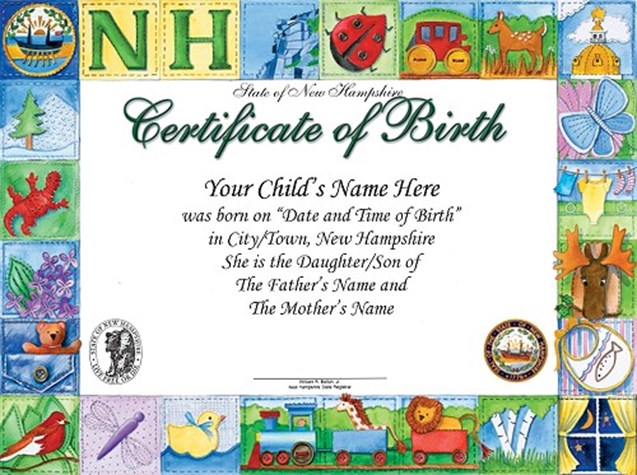 Now Being Offered
The New Hampshire Heirloom Birth Certificate is 11 x 14 inches (pictured above, suitable for framing) and is created from the original artwork of NH artist Karen Holman and is now being offered at a cost of $25.00 through the New Hampshire Division of Vital Records Administration. The Heirloom Birth Certificate is available to all New Hampshire-born citizens that were born between the years of 1948 to the present. The recipient of the certificate must be able to meet New Hampshire's access requirements. If you are not eligible to obtain a record for a friend or loved one, you may purchase a gift certificate entitling the eligible recipient to receive a copy.
We are located at:
9 Ratification Way (formerly 71 South Fruit Street)
Concord, NH 03301-2455
(603) 271-4650
You may request an Heirloom Birth Certificate or Heirloom Gift Certificate by submitting the application by mail at the address above, or in person between the hours of 8:30 a.m. and 3:30 p.m. Click here to fill out and print the application for an Heirloom Birth Certificate or Gift Certificate.
This certificate would make a great gift for many occasions such as:
Birthdays
Holidays
Family Celebrations
Vital Records Division Forms
Birth Parent Medical History Form (1)
City and Town Clerk Adoption Form VS37
Contact Preference Form For Birth Parents Of Adopted Children (1)
Non-certified Pre-Adoption Birth Record
VR201-Certificate Application
VR206-Documentation Evidence for Individuals Not Possessing An Acceptable Picture Identification
About Vital Records
The New Hampshire Division of Vital Records Administration is the state resource for residents who wish to obtain records of birth, marriage, divorce and death events. DVRA also has a genealogical research vault that is open to the public containing records that date back to the year 1640.
DVRA issues certified copies of birth, death, marriage and divorce certificates and provides aggregated data files to qualified individuals and agencies that demonstrate a "direct and tangible" interest in obtaining vital records. Click here to obtain the application and find out about your ability to access records. Various documents and information are available on this website about how to access vital records and who may access these records.
If you are a town clerk, hospital, funeral director, researcher or member of the general public, this website will help you obtain the information you need to remain up-to-date on vital records in New Hampshire.
Contact
Kristin M. Kenniston
State Director of Vital Records
Send Mail to:
Division of Vital Records Administration
N.H. Department of State
9 Ratification Way
Concord, NH 03301-2410
Physical Address:
Lobby hours by Appt:  Monday - Friday 8:30am - 3:30pm
9 Ratification Way [for GPS, use 71 South Fruit Street (former address)]
Concord, NH 03301
Telephone Numbers:
Main Number - 603-271-4650 (8:00am-4:30pm)
TDD Number - 1-800-735-2964 (8:00am-4:30pm)
Fax Number - 603-271-3447 (8:00am-4:30pm)
DVRA Reception - 603-271-4650 (8:30am-3:30pm)
Genealogy Vault - 603-271-4650 (8:30am-3:30pm
Division of Vital Records Administration Email Address: vitalrecords@sos.nh.gov
Directions to Vital Records Administration

Archives Vital Records Records Management Divisions